Join us!
How can the ECIDA help bring more Urban and Minority-Owned businesses to the economic development table?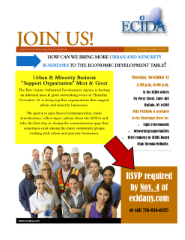 The ECIDA is hosting an Urban and Minority Business "Support Organizations" Meet & Greet Thursday, November 12 from 4:30pm-6:00 pm at our 4th Floor offices at 95 Perry Street, Buffalo NY 14203.
Brief welcome by ECIDA Board Chair Brenda McDuffie at 5:30 p.m.
Light refreshments will be served.
Organizations like yours, which are focused on enriching urban and minority-owned businesses, are invited to share their wisdom, ask questions, and bridge the communication gaps among our community agencies.
To help us gather information that will better direct our efforts, please fill out the brief survey below along with your RSVP information by November 4:
Please feel free to forward this invitation to other organizations focused on helping urban and minority businesses succeed in Erie County!
For more information please call 716-856-6525, ext 125