ECIDA Adaptive Reuse Strategy
Adaptive Reuse is the process of adapting old structures or sites for new purposes.
Significant portions of our building inventory in Erie County are considered functionally obsolete. These vacant and often distressed structures impact all property types in all areas of the county. In an effort to combat the increasing supply, the ECIDA Board of Directors approved a new policy called the "Adaptive Reuse Strategy." Since its inception, nearly 15 projects have sought assistance through the Adaptive Reuse Strategy.
Adaptive reuse projects present unique challenges to development by private market activity, among these are:
Higher costs associated with development of sites and structures

Environmental Remediation Issues
Building Code Issues
Physical Development Issues

Local real estate values that do not support increased upfront development costs
These structures also present many governmental and regional growth issues for the county.
Public safety concerns from abandoned and deteriorating structures
Significant costs to local governments for demolition or remediation of sites and buildings that end up in public ownership through abandonment or tax delinquency
Increased public infrastructure costs associated with new site and building development
With this in mind, the Erie County IDA, on December 8, 2008 adopted a new policy called "Adaptive Reuse Strategy." This policy allows the ECIDA to offer tax incentives for rehabilitating buildings that have been empty for three years or more and are at least 20 years old.
The first project to take advantage of our Adaptive Reuse Strategy was H@Lofts, LLC. This project involves the conversion and renovation of AM&A's warehouse buildings into a mixed use commercial office space and 48 apartments. The buildings have been vacant for a number of years, three of which being built between 1890 and 1910 are historically significant.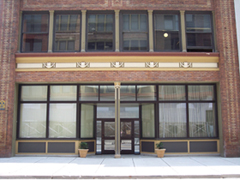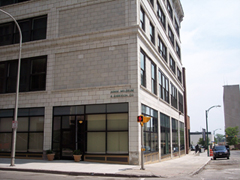 With the assistance of our program, the project will benefit the region with the re-use of vacant buildings which are over 100 years old. The historic significance of the buildings will be taken into account and even highlighted in the design of the proposed facilities, and the availability of downtown housing will serve to revitalize the area.
Read the full Adaptive Reuse Policy here.