Current News
Featured News - Current News - Archived News - News Categories
Thu, Jul 24th 2014 08:00 am
Tue, Jul 22nd 2014 10:00 am
Fri, Jul 18th 2014 05:00 pm
Fri, Jul 18th 2014 04:00 pm
Fri, Jul 18th 2014 04:00 pm
WKBW-TV news story: Niagara Lubricant Re-Opens
Fri, Jul 18th 2014 04:00 pm
Fri, Jul 18th 2014 03:30 pm
Fri, Jul 18th 2014 03:00 pm
Fri, Jul 18th 2014 02:00 pm
The Buffalo News Friday, July 18, 2014 Niagara Lubricant resettles in new building three years after massive fire $2.2 million project will create 9 new jobs
Thu, May 15th 2014 02:10 pm
Wed, May 7th 2014 08:00 am
City approves land sale for RiverBend tech hub
Wed, May 7th 2014 08:00 am
BUDC approves sale of Riverbend property for high-tech hub
Tue, May 6th 2014 01:00 pm
State reaches deal to acquire site for RiverBend project
Wed, Apr 30th 2014 01:00 pm
Wed, Apr 30th 2014 12:00 pm
Mon, Apr 14th 2014 12:00 pm
Tue, Apr 8th 2014 04:25 pm
Mon, Mar 31st 2014 01:15 pm
ECIDA APPROVES FUNDS TWO BUFFALO APARTMENT PROJECT TOTALING $14 MILLION IN ADAPTIVE REUSE INVESTMENT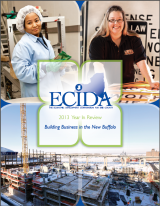 Wed, Feb 26th 2014 08:30 am
Our 2013 Annual Report is now available!
Fri, Jan 31st 2014 07:00 am
High-tech hub benefits from work Brown administration began in 2008
Wed, Jan 29th 2014 12:00 pm
THE ERIE COUNTY INDUSTRIAL DEVELOPMENT AGENCY BOARD TODAY APPROVED TAX ABATEMENTS TO SUPPORT $12.3 MILLION IN PROJECTS WHICH WILL BRING 216 NEW JOBS TO THE AREA
Wed, Jan 29th 2014 07:00 am
BUDC to assist remediation plan at East Side site
Tue, Jan 28th 2014 07:00 am
Krog tied to pair of BUDC redevelopments
Mon, Jan 27th 2014 07:00 am
NYS moving quickly to get RiverBend launched
Mon, Jan 27th 2014 07:00 am
Two California Firms Poised To Be First Tenants At Buffalo, New York High-Tech Manufacturing Innovation Hub
Sun, Jan 26th 2014 07:00 am
Factories here are transitioning into advanced manufacturing
Mon, Dec 16th 2013 12:00 pm
The building's anchor tenant, Delaware North Companies, will locate its global headquarters at the 250 Delaware Avenue
Fri, Nov 22nd 2013 07:00 am
Thu, Nov 21st 2013 03:00 pm
Public-sector incentives to the ability to attract top-level scientists and engineers were among the primary factors that led to a pair of California-based high-tech, clean-energy firms to be the first anchors of a South Buffalo development park focused on the concept of advanced manufacturing.
Thu, Nov 21st 2013 02:00 pm
High-tech hub for Buffalo includes state funding, $1.5 billion from 2 firms
Thu, Nov 21st 2013 08:35 am
Cuomo to announce $225 million high-tech, clean-energy development in Buffalo Energy research campus to create 850 local jobs
Tue, Nov 19th 2013 11:00 am
The Erie County Industrial Development Agency Board today voted unanimously to approve $807,000 in sales tax breaks to assist Delaware North Companies to relocate its global headquarters to a new location in downtown Buffalo.
Fri, Nov 15th 2013 10:00 am
Tue, Oct 22nd 2013 12:00 pm
ERIE COUNTY INDUSTRIAL DEVELOPMENT AGENCY BACKS ADAPTIVE REUSE AND INDUSTRIAL EXPANSION PROJECTS TOTALING $8.9 MILLION WITH $520,000 IN TAX ABATEMENTS
Mon, Sep 16th 2013 11:00 am
ERIE COUNTY INDUSTIRAL DEVELOPMENT AGENCY BOARD APPROVES $5 MILLION IN TAX ABATEMENTS TO BRING ANCHOR TENANT TO EMERGING TONAWANDA INDUSTRIAL PARK
Fri, Sep 6th 2013 11:00 am
Mon, Aug 19th 2013 11:00 am
ERIE COUNTY INDUSTRIAL DEVELOPMENT AGENCY BOARD APPROVES JUST OVER $1 MILLION IN AID FOR TWO LARGE INDUSTRIAL PROJECTS
Mon, Jul 15th 2013 12:05 pm
THE ERIE COUNTY INDUSTRIAL AGENCY TODAY APPROVED TAX BREAKS FOR THE $21 MILLION CONVERSION OF THE FORMER SHEEHAN HOSPITAL TO A MIXED USE
Mon, Jun 17th 2013 11:00 am
BUFFALO'S HISTORIC RICHARDSON COMPLEX WILL RECEIVE MORE THAN $7.5 MILLION IN TAX BREAKS FROM THE ERIE COUNTY INDUSTRIAL DEVELOPMENT AGENCY TO AID $55 MILLION REUSE PLAN
Fri, May 24th 2013 09:00 am
SOUTH BUFFALO BOA Hopkins Street Neighborhood Public Meeting