Featured News - Current News - Archived News - News Categories
Business First - ECIDA Plans Zero Net Facility
Fri, Jan 15th 2016 12:00 pm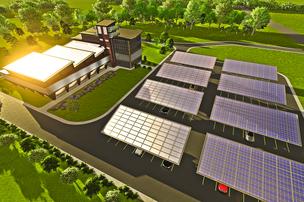 ECIDA plans 'zero-net energy' facility
Jan 15, 2016, 6:00am EST
Wind turbines. Solar panels. Geothermal systems.
The Erie County Industrial Development Agency is moving forward with plans to build a manufacturing facility that produces as much energy as it consumes.
The concept is called "zero-net energy" and has been widely adopted in Europe, but is
still a fledgling idea in the United States.
ECIDA leaders say the facility, if built, would be the first certified zero-net energy factory in the entire country.
The proposal is in its infancy, but the principals envision a viable facility to support manufacturing companies while thrusting Buffalo into a new conversation about energy.
"This would be a signature project, not just for Western New York but for the entire state," said Grant Lesswing, an ECIDA business development officer who is leading the project along with Philip Riggs, an ECIDA project inspector.
The ECIDA has an initial set of proposals for the facility, including 50,000- square-feet of manufacturing space and 30,000-square-feet of commercial office space within five square miles of the SolarCity complex in South Buffalo.
The initial cost projection is $17 million.
But ECIDA principals warned that the proposal will likely change substantially through the design phase.
It could be owned by ECIDA and leased to a variety of small manufacturers, or
sold to one major user. It could be on a section of the Bethlehem Steel site, or it could be elsewhere.
An RFQ was issued in September and garnered 14 responses ranging from California to Ireland. Ultimately, a $135,000 contract was awarded to a team led by Minneapolis-based HGA. The team includes C&S Cos., which has an office in Buffalo, fulfilling the ECIDA's requirement for a local component.
The design team will produce a report in the next four months that analyzes the cost, location and scope of the facility and makes recommendations on how to proceed.
"We've put some stuff out there but if you ask me how do I validate it, this analysis will be the validation as to what we can really expect," said Steve Weathers, ECIDA president and CEO.
ECIDA isn't the only entity working on the project. Personnel from Erie County government have been actively pushing the project forward, and the University at Buffalo is a dedicated partner. The eventual funding will likely come from a consortium of sources, with possibilities including the ECIDA, Erie County and New York state. The goal, though, is to build a facility that is financially sustainable, Weathers said.
Ultimately, a net-zero manufacturing facility could be a component of a transitioning local economy, highlighting the history of industry here and the new age of advanced manufacturing, Riggs said.
"We want to build a building that could get small emerging manufacturing companies in and give them a great environment to grow," he said. "We thought that would be a cool economic development project."