ECIDA Spotlight Archive
---
Cantalician Center

Construction work continues on the new home for the Cantalician Center for Learning, Inc. The organization provides a myriad of services for individuals ranging in age from birth to 21 years old including those with developmental disabilities.
Once completed, the new facility will be able to assist over 200 children. One year ago, the Cantalician Center purchased the former St. Barnabas School and Church located at 2049 George Urban Blvd, Cheektowaga and decided to consolidate two existing campuses into a modern ADA (Americans with Disabilities Act) compliant 96,000 sq ft facility. The ECIDA is proud to be part of this project and looks forward to seeing the completed facility!

For more pictures, please visit our FB page: http://www.facebook.com/ecidany?ref=tn_tnmn
---
Start Up Businesses Focus on Kids!

Meet two energetic entrepreneurs who recently opened businesses focused on the youngest of customers! Jessica Ayar keeps kids "on the go" at Gymboree Play & Music, 4927 Transit Rd, Williamsville. One look at the joy on her young clientele's faces as they explore the primary colored mats and fly down the slide and it's easy to see why Jessica is enjoying her new role as a business owner. "Watching the children develop both physically and socially is exciting. When they come running in the door and give me a hug, well that's special too." Over in the southtowns Stephanie Makowski, owner of Fresh & Fluffy, 164 Buffalo St in Hamburg, is catering to environmental and style conscious babies with her many lines of cloth diapers.




Do "cloth diapers" conjure up thoughts of white cotton and safety pins? Well, think again. These eco friendly diapers come in a variety of styles and options - covers with washable or disposable inserts. The store draws customers from all around the area; many come with questions about using cloth diapers and find the variety of Made in America products Stephanie offers to be an added bonus. "Next week, a bunch of Moms from the northtowns are piling in a van and taking a road trip to my shop."Open just 2 months, Stephanie is already expanding to include gift baskets and online sales. Will we see another F & F store in the future? "It's something that I'm already thinking about" she confesses.

Contact the ECIDA at 716.856.6525 to see if a microloan is right for your small business.
---
The 7th Annual Small Business Matchmaker & Awards Luncheon - May 9th!

Are you ready to celebrate Small Business Week coming up in May? It will be here before you know it! The 2012 Small Business Matchmaker & Awards Luncheon is being held on Wednesday, May 9th at the Buffalo Niagara Convention Center.
If you are a small business, don't miss this opportunity to meet with buyers from federal, state and local government agencies and national businesses who are looking to buy your products and services! Not sure how to take advantage of this opportunity? Sign up for one of the FREE "Selling to the Government Pre-Matchmaker Training"webinars or workshops to help you put your business on the fast track to securing government contracts. To find a training session near you - check out the sessions being offered March through May at various locations throughout WNY (PDF Brochure). Will you be attending the Small Business Week Awards Luncheon, also being held on May 9th? Join us in congratulating Rani Orzechowski, Owner of The Cleaning Pixies (http://www.thecleaningpixies.com) who is the ECIDA's 2012 Small Business Award winner! To learn more about the event or to register, please click here: http://www.bizjournals.com/buffalo/event/59541#register
---
All Aboard!

The Erie County Industrial Development Agency (ECIDA) has a long history of facilitating rail projects in Western New York. We assist local companies seeking to bring rail services to their facilities and thus reduce their transportation costs.
We also manage several short line railroads including the Buffalo Southern Railroad (BSOR) that runs from Buffalo to Gowanda. This track continues on to Jamestown and eventually to Pennsylvania! The railroad siding in Eden stores the Erie County Fair train cars used by James E. Strates Attractions to bring the Fair to Hamburg each year. In 2011, the BSOR was selected as a recipient of a New York State Department of Transportation (NYSDOT) grant aimed at replacing railroad ties, upgrading a failing side track and installing a new switch. The total project costs were $817,500 - funded primarily by the NYSDOT with assistance from the BSOR and ECIDA. Bert Feasly (BSOR) teamed up with Phil Riggs (ECIDA) to oversee the construction and logistics of completing this work on an active track. To learn more about the BSOR please visit their website at www.buffalosouthernrr.com. To inquire about railroad service to your site please contact the ECIDA at 716.856.6525. And the next time the Erie County Fair rolls into town, think of the ECIDA!
---
Let's Cross That Bridge When We Get To It!

Why wait? A planned pedestrian bridge was recently installed at Ship Canal Commons within Buffalo's Lakeside Commerce Park.
We would like to share with you, this photo of the installation, taken in late December, 2011 by Phil Riggs, ECIDA Facility and Rail Site Manager. Phil has played an instrumental in this transformational development project - as a shared project resource to the Buffalo Urban Development Corporation. Not familiar with Ship Canal Commons? Click here to learn more about it. See you at the park this Spring (bring your walking shoes)!
---
Sweet Success!

Have you been to the Black Rock section of the City lately? If not, a road-trip is definitely in order! Delish, a well-known Buffalo-based bakery recently moved to 414 Amherst Street and has expanded its offerings to include an upscale espresso bar. The bakery treats are amazing and so is the coffee! Read more about Delish' success here.
While in Black Rock recently, we met up with Mark Kubiniak, President of the Grant Amherst Business Association. Mark revealed much about the area's rich history and promising future. "Look around and you will see a ton of investment being made by business owners in the area" explains Mark. So whether it's the emerging arts community, the neighborhood festivals or simply the wonderful businesses in the area that draw you to Black Rock, a visit to this promising neighborhood is certainly worth the trip. While there, don't forget to stop at Delish for a steaming hot honey cinnamon latte!
---
Small Businesses Seek and Find Assistance through the ECIDA

We've all heard it said that small businesses will be the catalyst for improving our economy. We've also heard that it's tough for small businesses to get a bank loan. So how will these small businesses grow and create jobs?
One solution may be the ECIDA's newest loan program that seeks to provide the funding to small businesses when they've been turned down for bank financing. Since its inception last fall, the ECIDA has completed 3 loans to local small businesses under the ECIDA's Business Stimulus loan program.
Is an ECIDA loan right for your expanding business? Find out by contacting us today at 716.856.6525.
---
We're on Facebook!

"Like" us on Facebook and stay connected with our events, quick news items, and pictures! Click the Facebook icon to be directed to our page.
---
From Cupcakes to Pet Care

The Greater South Buffalo Chamber of Commerce hosted the Entrepreneurial Assistance Program (EAP) spring graduation on June 14, 2011 with 15 aspiring entrepreneurs completing the 60-hour class.
The EAP provides entrepreneurs with the tools they need to start or grow an existing business - from creating successful business plans to marketing, financing, record keeping, and other key issues necessary to ensure their business is a success.
On graduation night, several speakers were invited to talk to the group about financing options for their business. Our own Beth O'Keefe spoke to the group about the agency's Microloan program. Other speakers included Mike Welch, First Niagara Bank; Elizabeth Fattey, Bank of America; and Dan Ward, Empire State Development. Entrepreneurs graduating from the program are pursuing businesses in the fields of construction, hair styling, pet grooming, eateries, and a cupcake shop.
The EAP is a partnership between the Greater South Buffalo Chamber of Commerce, Ibero American Action League, NYS Empire State Development, Medaille College MBA Program, and Assemblyman Mark Schroeder. The fall class is set to begin on September 15 at the chamber office on 2189 Seneca Street in South Buffalo. For more information call Ann Enger at 716-824-9942 or Maureen Pace at 716-628-9525.
---
Italian Heritage Celebrated at the ECIDA

The ECIDA is honoring the various immigrant groups who have made Western NY their home! Maryann Stein, International Programs Director, ECIDA is leading the Heritage Flag initiative - flying the flags of various countries representing WNY's immigrant population at our offices at 143 Genesee St, Buffalo, NY. Peter LoJacono, WNY Italian Heritage Director, presented the ECIDA with its first Heritage Flag. The flag of Italy is on display, in conjunction with The Sorrento Cheese Italian Heritage Festival of Buffalo, NY (http://www.buffaloitalianfestival.com/) taking place July 14th - 17th, 2011.
The flag raising ceremony, held on July 8th, was attended by ECIDA staff, Mr. LoJacano and his family. ECIDA Facilities Manager Phil Riggs spoke about Buffalo's Italian history. Drought and crop failure combined with heavy taxation forced many people to leave Italy in the last 2 decades of the 19th century and 14,000 of them came to Buffalo. Also discussed was the meaning of the colors of the Italian flag. The colors can be interpreted in two different ways. One is that green symbolizes hope, while white represents faith and red signifies charity. Another interpretation pronounces green to be the symbol of the Italian landscape, white as the representation of the snow capping the mountains of the Alps, and red symbolizing the bloodshed leading to Italy's independence. All of these symbols embody the presence of unity and nationalism among the Italian people.
ECIDA COO Al Culliton accepted the flag and presented Mr. LoJacono with a Certificate of Appreciation for the group's generosity of this special gift. When you pass by our offices at Genesee and Oak, take a look at the Italian flag flying proudly alongside the flags of the United States of America and Canada!
If you or someone you know represents a group that has come to know WNY as their homeand would like to participate in our Heritage Flag initiative, please contact the ECIDA at 716.856.6525.
---
Al Culliton named Economic Developer of the Year

Al Culliton, COO of the ECIDA has been named 2011 Economic Developer of the Year by the New York State Economic Development Council (NYSEDC). The award was presented Thursday, May 26, at the NYSEDC's annual meeting in Cooperstown. Congratulations to Al on this accomplishment!

The ECIDA was also awarded a Certificate of Excellence Marketing Award for this newly designed website.

To read more about these awards, please click here.
---
The latest edition of ECIDA Aid, the agency newsletter, is now available for your reading pleasure.

Be sure to read about the various topics covered including how the ECIDA aids "Larkinville" developments, how a local ice-cream maker scooped up a Micro Loan, the release of a Canadian-U.S. border study, why our address changed, and 2010 highlights from our Chairman.

You can also catch up with archived newsletters here.
---
Financing Exports in 2011 and Beyond
Are you thinking about getting into the exporting business? Already there and want to learn how to make the process easier? Looking to connect with other local and regional companies doing business outside of the U.S.? Come to the 2011 ECIDA International Business Seminar where you can discover innovative products to increase your profits, enhance your cashflow, and minimize your risks when doing business internationally.
Join the ECIDA for this FREE event made possible by HSBC Bank, USA.
---
| | |
| --- | --- |
| Find us on Facebook and stay connected with our events, quick news items, and pictures! Click the Facebook icon to be directed to our page. Make sure you "Like" us! | |
---
A Perfect Fit
When Annette Watts approached the ECIDA about a microloan, we knew we had the perfect fit for her small business needs!

Annette's bustling store - Ann Rhod's Tailoring Shop -had outgrown its existing space and could not accommodate a much needed expansion. Within a few months, a move to a nearby storefront and an ECIDA microloan for equipment, furniture & fixtures turned out to be a tailor-made solution.
On Saturday, March 12th 2011, Ann Rhod's Tailoring Shop celebrated a "Grand Opening" of its new location at 3185 Bailey Ave, Buffalo. Customers were treated to hot dogs, soft drinks, and a chance to meet Annette and her extended family - many of whom came in from out of town to support and celebrate the event with her. "We even have a real fitting room now" Annette boasts, beaming with pride as she greeted visitors attending the celebration. The move to a building directly next door allows Ann Rhod's to continue servicing its loyal customers while the grand opening festivities, including colorful balloons and the delicious aromas from an outdoor grill, attracted new customers.
Several years ago, Annette Watts decided to start her own business after her hours were cut at a local dry-cleaner. Annette started out as a home based business. In 1994, she moved to a retail location on Bailey Avenue and established Ann Rhod's Tailoring Shop. She evolved her business to meet customer demand as the calls for dress-making changed to requests for alterations and tailoring. With her newly equipped facility, Annette is poised for the future.
Can the ECIDA help your business' growth needs? Contact our Business Development Team at 716.856.6525 to discuss your plans.
---
Credit Reports at Lowest Prices in USA
The ECIDA has over a decade's experience in delivering low-cost and high-quality fresh credit investigations. Go to the Worldwide Credit Report page to learn more about our new lower prices and what we have to offer!
---
Binational Dialogues Summit 2011
"Building a Binational Community"
March 10+11 |The Americana Conference Resort and Spa - N.F., Ontario
| | |
| --- | --- |
| The Binational Economic and Tourism Alliance (BETA) will host its annual summit to foster cross-border engagement and it includes many opportunities for delegates to network, share business challenges and opportunities, and socialize with like-minded colleagues from cross-border regions. This year's Binational Speaker Series Keynote is Terry Wright, Executive Vice-President, Games Operations for Vancouver 2010 Olympic & Paralympic Winter Games. | |
The Summit will kick off on Thursday, March 10 at 5:30pm with the Evening Cornucopia and Awards Presentation. Friday, March 11 will be filled with speakers and presentations that you can't afford to miss focused on these topics:
Economic Development - Building Global Gateways to North American Markets
Tourism - Using Large Sport Events to Attract New Cross-Border Visitors
Culture - Connecting the Arts and Heritage for 1812 Bicentennial Success
Cross-Border Updates & Changes at our Borders
A Trade Show will run both days and be in the main conference rooms to ensure high visibility and networking opportunities.
For more information, please visit the BETA Binational Summit Registration website, or contact Helga Honey at (716) 856-6525 x 157.
Stay up-to-date with press releases regarding the summit.
The ECIDA is proud to be a Presenting Sponsor of the 2011 Binational Dialogues Summit and we look forward to seeing you there.
---
Why Should Your Company Export?
Did you know that 95 percent of the world's customers lie outside the U.S.?Ignoring them diminishes your revenue opportunities and market share.
When we meet with local companies, they often tell us they are not engaged in international business, "unless we include Canada". Well, guess what? In case you haven't noticed when you tried to cross the border lately, Canada is a foreign country. And if you are buying or selling there, you are indeed participating in international business. As the U.S.'s and New York State's largest trading partner, Canada is a good place to start for local companies looking to export.
While a weak U.S. dollar is not good news across the board, it is incentive for foreign buyers looking to purchase American products. They receive an automatic discount when purchasing U.S. goods making American products even more enticing. Exporting is a great way to increase demand for American products which in turn creates American jobs. And Americans working for exporting firms earn 15 percent more in comparison to similar jobs at non-exporting firms (National Export Initiative).
A great place to start if you are interested in exporting is to check out the credit worthiness of your potential foreign buyer through a credit report. Though these can often be expensive and usual require a contract to be signed with a supplier, the ECIDA's Worldwide Business Credit Report service can assist. We have signed the contract for you with our suppliers, Coface and Graydon, to bring you high quality, low cost, comprehensive business information at a variety of delivery speeds.
Another valuable product we offer to assist you in exporting is Export Credit Insurance. Offering your overseas buyer open account terms will increase your sales opportunities as well as your risk of non-payment. While you may prefer cash in advance, it is often unrealistic to expect your foreign buyer to agree to this, especially if your European competitor is offering credit terms. Export Credit Insurance provides protection against commercial and political risks including foreign buyer bankruptcy, declarations of war, currency inconvertibility, or default.
These are just a few of the services provided by our International Division. We also host the ECIDA International Division Seminar Series, administer Foreign Trade Zone #23, and serve as a City-State Partner of The Export-Import Bank of the United States. To learn more about these programs, please visit the International Division website or contact us at (716) 856-6525 - ask for "International".
| | |
| --- | --- |
| International Trade Shows are a great way to expand your sales by increasing your contacts immediately. Shows also give a pulse as to what is going on in your specific industry regarding trends, technology uses and leaders. Sam SanFilippo, Vice President of Marketing and Sales at Servotronics, Inc. in Elma and his customer, Mr. Lee of Royal Medical, South Korea met at the MEDICA trade show. Servotronics has expanded its presence in both the domestic and foreign markets and has utilized ECIDA's International assistance. | |
---
Did you attend Straight Talk 2011?
The ECIDA is a proud sponsor of Straight Talk, an annual event whose goal is to assist local small businesses in the areas of education, training, counseling and networking. This year's event brought together over 350 entrepreneurs, local political officials and "small business" support organizations on Saturday, January 22nd at the Buffalo Niagara Convention Center. In addition to an information booth, the ECIDA participated along with First Niagara Bank, the SBA and NYBDC in "Show Me the Money" one of several informative seminars offered to small businesses attending this event. For more information on how the ECIDA can help your small business, contact us at 716-856-6525 today!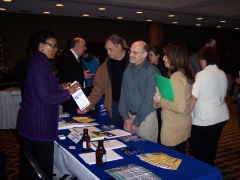 ---
Our Address has Changed...
But we haven't moved!
Effective January 1, 2011, the address of the ECIDA and its affiliates has changed to:
143 Genesee Street
Buffalo, NY 14203
Please note that the offices of the ECIDA and its affiliates has not moved and is located in the same building at the corner of Oak and Genesee Streets. This is merely a change of the address. Please contact us with any questions.
Here's to a great 2011 for Erie County and all of Western New York!
---
'Tis the Season
The ECIDA is swept up in the holiday spirit! During this season of giving, the staff of the ECIDA has participated in two charitable events benefiting our local community.
During the month of November, non perishable food was collected and donated to the Food Bank of Western NY. In December our collection boxes were overflowing again - this time with all sorts of wonderful toys for our Toys for Tots drive including: a Candy Land board game, miniature monster trucks and a Barbie learning laptop, just to name a few! We are proud to support our local charitable organizations during the holidays and throughout the year.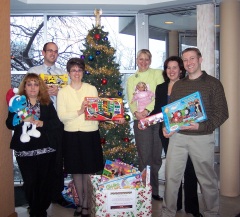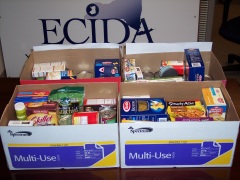 Wishing you all a wonderful holiday season.
---
ECIDA Fall Newsletter
The latest edition of ECIDA Aid, the agency newsletter, is now available for your reading pleasure.
Be sure to see the various topics covered including a nearly half million dollar EDA grant, the impact of U.S. and Canadian travel restrictions, how a MicroLoan helped a local fashion designer, and the many more ways the ECIDA is working for the growth of the Western New York Economy.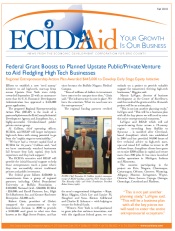 Be sure to catch up on the archived newsletters here.
---
"Signs, Signs, Everywhere Signs"
No, this is not a look into the past featuring the Five Man Electrical Band with their 1970's hit Signs.
The Erie County Industrial Development Agency (ECIDA) has implemented another strategic initiative. The Agency is placing signs at development sites for projects that have received benefits.
The ECIDA has ordered project signs to be placed at construction sites throughout Erie County. In keeping with the " going green" wave sweeping our community, these signs are made of a biodegradable product that will not hurt our environment after the signs have outlive their usefulness.
The sign initiative, coupled with the recent radio advertisement featuring local IDA's, are helping the ECIDA deliver its message. Residents can see projects that the IDA has had a hand in helping. In the past, the ECIDA would rely on press releases to help spread this word. The sign project will reinforce the commitment the ECIDA has to the growth and economic development of Western New York.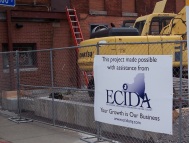 So, the opening lyrics to the song "signs" fits the ECIDA "Signs, Signs Everywhere Signs"!!!
---
Back to School with The Ink Spot
Back to school means it's time to buy notebooks, pencils and all kinds of school supplies. Lucky for us, The Ink Spot now located at 1440 Jefferson Street carries all the supplies students and teachers need - right here on Buffalo's East Side.
The Ink Spot, owned by Tim and Darnelle Hall, recently relocated to Jefferson Street to better serve its customers. "Our new location is larger and allows us to carry even more teacher, school and office supplies" Tim said. "We are also an authorized shipper for the post office, have P. O. boxes on site and offer various services such tape duplication, audio tape conversion to CDs and video conversion to DVDs."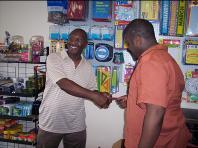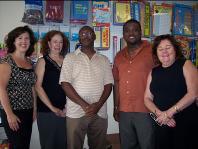 Pictured (left): Tim Hall, owner of the Ink Spot cuts the ribbon during the grand opening on Saturday, July 24th while Council Member Demone Smith, Masten District, looks on. (right): Beth O'Keefe, ECIDA, Cindi Thomason, Small Business Development Center, Tim Hall, The Ink Spot, Demon Smith, Council Member and Maureen Pace, New York State Entrepreneurial Assistance Program at the grand opening.
So what does all this have to do with the ECIDA? Well back in November, 2009 the ECIDA announced a special Minority Loan & Grant Program designed to assist minority owned businesses in the County. The Ink Spot applied to the program and submitted a business plan outlining its desire to purchase equipment and inventory for their new facility. In the Spring 2010, the ECIDA awarded loans to 6 minority owned businesses, including The Ink Spot.
At the Grand Opening of the Ink Spot on Saturday, July 24, 2010, the shelves were well stocked and ready for the back to school season. The event was attended by representatives from the Small Business Development Center, the NYS Entrepreneurial Assistance Program, local council members and others who have assisted and supported the growth of this small business.
To find out more about the ECIDA's loan programs, visit our loan page by clicking here or by calling us at (716) 856-6525.
---
Spotlight on Foreign Trade Zone #23
Created in 1934 by the U.S. government, the Foreign Trade Zone (FTZ) program facilitates international trade and increases global competitiveness. FTZ's are considered to be outside of U.S. Customs and Border Patrol (CBP) territory and are located in or near CBP ports of entry. Internationally known as free-trade zones, Erie County, New York's FTZ was established in 1976 and is the 23rd FTZ established in the U.S. CBP approves FTZ sites prior to activation and before any merchandise is received.
Imported goods which carry a custom duty must pay that duty immediately upon arrival on U.S. territory. Use of a FTZ delays payment of that duty until the goods are shipped to the U.S. domestic market. If the goods are re-exported, no customs duties are ever incurred. Merchandise may remain in a zone indefinitely, whether or not subject to duty.
Activities permitted in a FTZ include: Repackaging, assembling, sampling, testing, relabeling, destruction, storage, processing and mixing of merchandise. Special approval for manufacturing is required. No retail trade of foreign merchandise may be conducted in an FTZ.
In some instances, duty rates on finished products coming into the U.S. can be lower than the duty rate applied to one or more of the components coming into the U.S. individually. This is known as an "inverted tariff" and actually can benefit foreign manufactures that compete against U.S. companies. The foreign competitor is assessed a lower duty rate on their finished product than a U.S. manufacturer importing individual parts or raw materials that go into their finished product. If the U.S.-based manufacturer is in a Foreign-Trade Zone environment, and its operation has been approved for relief from inverted tariff rates by the Foreign-Trade Zones Board, it can pay the same duty rate as the finished product rate paid for by its foreign competitor.
Merchandise, which lawfully cannot be imported into the United States, is prohibited without exception. Furthermore, placing merchandise subject to a quota into an FTZ cannot circumvent quota on the imported merchandise.
The Erie County Industrial Development Agency located in Buffalo serves as grantee for FTZ #23 on behalf of Erie County. For more information on Foreign Trade Zone #23 , please click here.
General-purpose Zones in Erie County FTZ #23
---
The House that Jack Built
This is your Industrial Development Agency...
...that nurtures the business, that creates the income, that fuels the economy, that grows the community, that cares for the children, that live in the house that Jack built.
This is your Industrial Development Agency creating thousands of jobs and supporting billions of dollars in investments, Nurturing Business, Growing Community.
Read our "Frequently Asked Questions" below to learn more about how IDA's Nurture Business & Grow Community
Do IDA's give grants?
An IDA does not directly provide grant funding. The IDA's main product is an Industrial Revenue Bond, which is a vehicle for providing tax incentives and serves as a conduit for bank or private financing. Many times when a project's investments are reported on, this generally is the amount of private investment being made by a company, not a grant given by the IDA.
Does IDA financing impact local requirements or zoning?
No. IDA financing approval does not override any local regulation. Before a project can proceed, all local zoning and other requirements must be met.
Do IDAs coordinate with other economic development agencies?
Yes, IDA's partner with many other agencies to match the client's needs with available programs. In fact, all IDA's in Erie County participate in a County-wide eligibility policy that denotes procedures for intergovernmental moves and the types of projects eligible for IDA assistance, regardless of location. In addition, IDA's will coordinate benefits with other agencies, such as Empire State Development, and utilities.
How do IDA's receive funding to operate?
IDA's do not receive any tax dollars from local taxing jurisdictions to operate. Businesses provided with IDA financing pay a fee that covers the IDA's costs of various regulatory filings, staff and activities such as marketing and studies.
Is it true that IDA-approved projects don't pay taxes?
No. When an IDA provides benefits to a project, the property immediately becomes exempt from mortgage tax, sales tax and real property tax. However, the IDA enters into a Payment In Lieu of Tax (PILOT) agreement with the project operator, which generates new taxes to the local community. IDA projects result in new tax revenues for the community utilizing a PILOT agreement that permits reduced tax payments over a period of time.
As an example, Amherst IDA-supported projects generated nearly $8 million in Town, County and School PILOTs in 2009. Additionally, properties whose PILOT agreements expired now pay over $6.6 million in property taxes to those jurisdictions.
Is it true that IDA's only create low paying jobs?
No. In fact, IDA's help businesses create all types of jobs like high paying R&D jobs, skilled manufacturing jobs and entry level back office jobs. A recent job survey completed by the ECIDA showed that IDA-assisted companies created jobs that, on average, paid above the regional average wage.
Click Here to see an example of how the Clarence IDA helped a local company.
Click on the play buttons below to listen to our Radio Ads.
To Learn More about IDA Services and to speak with an IDA Business Development Specialist Click Here.
---
Spotlight on Adaptive Reuse
Significant portions of our building inventory in Erie County are considered functionally obsolete. These vacant and often distressed structures impact all property types in all areas of the county. In an effort to combat the increasing supply, the ECIDA Board of Directors approved a new policy in December 2008 called the "Adaptive Reuse Strategy."
This policy allows the ECIDA to offer tax incentives for rehabilitating buildings that have been empty for three years or more and are at least 20 years old. Since its inception nearly 15 projects have sought assistance through the Adaptive Reuse Strategy, including Signature Development for their AM&A's Warehouse Lofts conversion.
The first project to take advantage of our Adaptive Reuse Strategy was H@Lofts, LLC. This project involves the conversion and renovation of AM&A's warehouse buildings into a mixed use commercial office space and 48 apartments. The buildings have been vacant for a number of years, three of which being built between 1890 and 1910 are historically significant.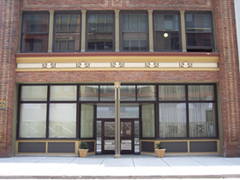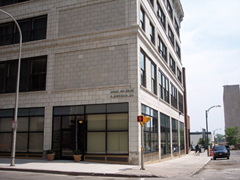 Signature Development utilized the Adaptive Reuse Strategy for the AM&A's Warehouse Lofts conversion.
With the assistance of our program, the project will benefit the region with the re-use of vacant buildings which are over 100 years old. The historic significance of the buildings will be taken into account and even highlighted in the design of the proposed facilities, and the availability of downtown housing will serve to revitalize the area.
Read the full Adaptive Reuse Policy here.
Read the full Project Log here.
---